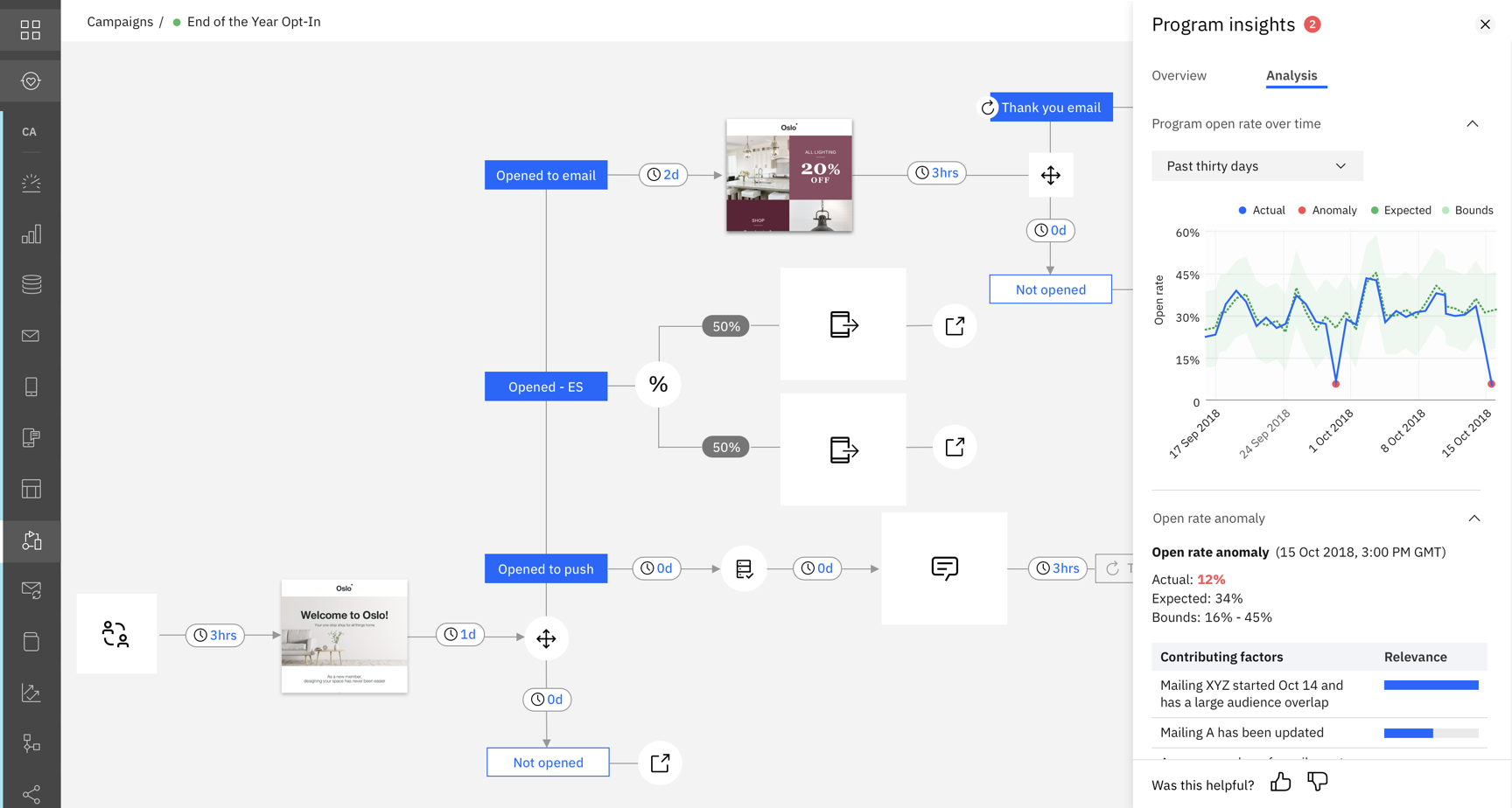 Acoustic Campaign helps marketers attract and convert customers faster with personalized campaigns across channels like email, push, SMS, and more. Acoustic's open platform makes it easy for marketers to manage campaigns, build emails, shorten buying cycles, track marketing ROI, and manage data for both B2B and B2C teams.
Features
Email marketing
Mobile marketing
Automated, multi-channel journeys
B2C and B2B marketing
AI-powered anomaly detection in programs
Performance insights and reporting
Social marketing
Lead management and scoring
Personalization and A/B/n testing
Pre-built integrations
Pricing
Acoustic Campaign provides a custom pricing package by quote.
G2 Score
3.7/5 (out of 238 reviews)
Reviews (Snippets from G2)
Pros
Acoustic campaign is decent marketing automation platform.
There are a lot of features that are out of the chat but the few most important features are email marketing ,Lead management and scoring help in keeping the track of progress of team.
I love how it is simple, u really understand the things u can do; even when u are not so familiarized with many functions.
The segmentation feature and getting token from FCM is good to understand. I am using segments to filter required users.
In recent years, Acoustic has gone through a lot of changes. I will say they continue to improve and I expect they're only going to get better.
Cons
Minor quirks with the WYSWIG, it would be nice to have split source and design views, often have to get into HTML code to change something WYSWIG cant do.
I dont understand why don't exist an AB testing functionality for sms. The process of create a query is extremely repetitive.
There are two seperate reporting features in the same platform, and the results are inconsistent even between those two reporting features.
Integration is the area where improvement can be done to make a seamless experience of the product.
Integrations are also not that easy, it's possible to make them, but they are a little difficult. Like integrating with Google Analytics, wish you could make a one-button click integration.