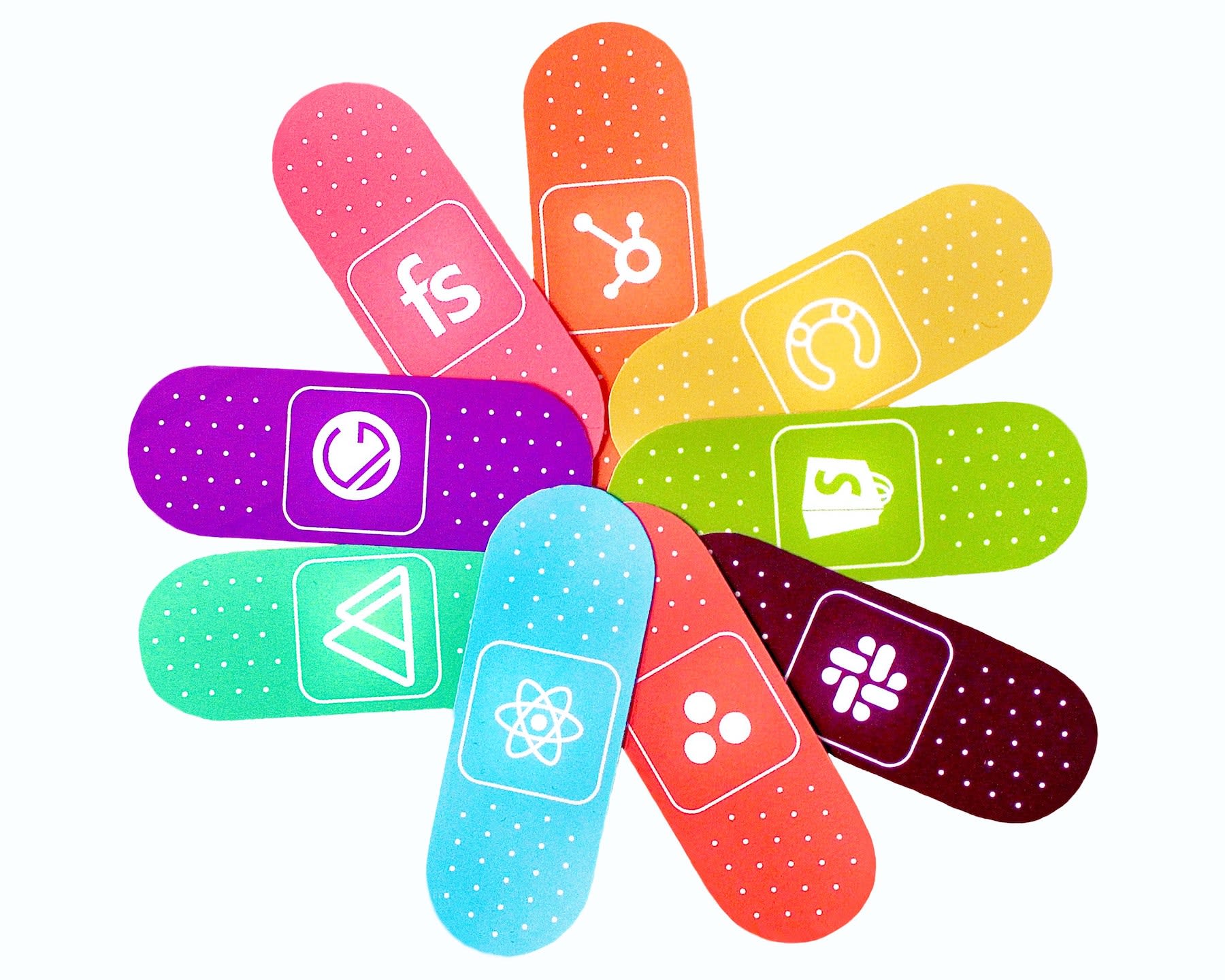 The way people buy software is changing.
It's easier than ever before to start a company.
More companies means more choices for buyers. And less patience for clunky software.
End users demand a better user experience from the tools they use.
Nearly 75% of B2B buyers prefer to buy from a website, rather than a salesperson.
To keep up with the buyer's expectations and stay ahead of the curve, businesses need to rethink their marketing, sales, and customer service strategies.
‍
Sales-led and marketing-led growth are things of the past.
The future is product-led growth.
What is product-led growth?
Product-led growth (PLG) is a user-focused growth model in which user acquisition, expansion, conversion, and retention are all product driven.
Enterprise buyers expect to try and evaluate software in an easy, frictionless way. This has resulted in a new approach to customer acquisition where the product itself is the channel for acquiring, retaining, and growing customers.
The entire company is designed around building a better product. By designing all functions around the product across teams, product-led companies benefit from shorter sales cycles, lower customer acquisition costs (CAC) and smaller team sizes.
The shift from sales-led to product-led growth
So far tech product growth was mainly sales and marketing-led.
The software industry has been undergoing a gradual shift of power from the buyer to the end user.
The lowering cost of software led to the rise of a freemium model. This led to the transition from a top-down distribution to a bottom-up distribution.
The go-to-market now starts from an individual user embedded in an enterprise, who champions it in their team and then it propagates to their entire organization.
B2B buyers prefer do-it-yourself online options for researching, trying and buying products and services. They demand that B2B sellers fully enable those digital paths to allow them to purchase without having to go through a salesperson.
Still many of today's companies insist that buyers interact with sales reps to purchase. For a minority of customers (mostly enterprise) who have complex procurement processes and are buying expensive products, talking to a sales rep can be useful and in some cases required.  
However, the majority of B2B buyers prefer to self-educate online about products, and already know what they want. For them having to go through a sales rep is inconvenient and painful.
Companies need to actively think about minimizing friction at every step of the customer journey. Smart companies are adapting to keep up.
Product-led growth is sustainable and scalable.
If you're not relying on a sales team to sell the product, you're not limited by the size of the team and the number of hours in a day. A sales team also keeps your CACs high— good sales people are expensive.
Characteristics of a product-led company
This is product-led way of buying software:
Sign up and start using the product.
Ask for help if you get stuck.
Upgrade to the paid plan when required.
To enable this, product-led companies need:
Self-serve product (no forced sales demo)
Self-serve products create low barrier-to-entry, making it easy for buyers to try out the product within hours if not minutes.
Giving users the ability to discover the product and onboard themselves is critical to product-led growth. This enables companies to widen the top of the funnel.
For popular use-cases, self-service websites can often serve B2B buyers more effectively than sales reps can. B2B companies that do not give in and wait too long to create self-serve products will lose out to fast-moving competition.
Freemium model
The freemium model is not just about having a free plan. The free plan or the free trial needs to deliver real value to users before showing them the paywall.
Quick aha moment
Users today have short attention spans and instant gratification needs. Your product needs to be easy to understand, and needs to get the user to an aha moment as quickly as possible.
Exceptional customer service
While users can onboard themselves to a your product, they might have questions. If you're making users jump hoops to get their questions answered, they won't stay for long.
Simple pricing structure
If users cannot find your pricing page on your website, or if they do not understand your pricing structure, they will leave.
Built-in network effect
As more people start using your product in a network or company, it should become more valuable and more irreplaceable. If it's a platform, getting users to integrate with their workflow tools makes it harder to replace.
Disadvantages of a bottom up sales strategy
Lower contract sizes
Contract sizes in a bottom-up sales strategy are significantly lower than in a top-down sales strategy. This needs to be compensated by having a larger top of funnel.
Freemium customers
Often, if you're giving something for free, there will be a section of customers for whom the free offering will be good enough. There needs to be a fine balance in what you offer for free to make sure that the offering is good enough for your customers to realize value without paying, while making sure that there is something behind the paywall that they do pay for.
Balancing adoption from freemium with paying customers
As Adam Gross (ex-CEO of Heroku) points out, product-led companies need to have a nonlinear value proposition change as a user goes from the free plan to the paid team plan.
The free plan is designed for engagement and to drive adoption, and the value proposition of the team mode needs to be complimentary but distinct to ensure that users upgrade to the paid team mode.That's when you can start seeing conversions (from free to paid).
Adam Gross's 1-2-3 Framework lays this out clearly.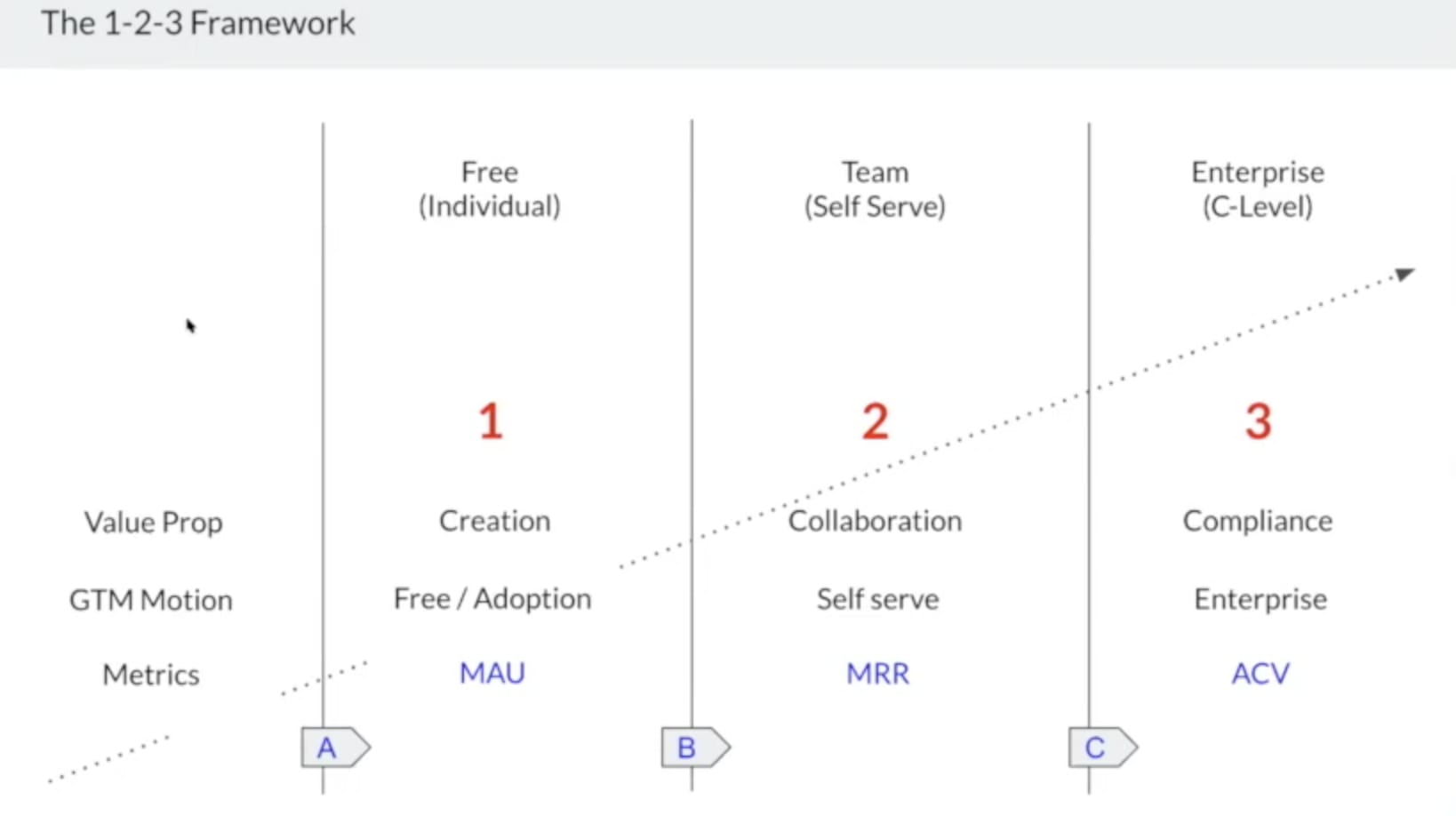 If you offer the same product with minor differentiation between the free and team plan, you are going to have very limited success in conversion. You need to give users a reason to start paying.
For companies to upgrade from the Team plan to Enterprise, the motivation is often compliance.