Why your website needs live chat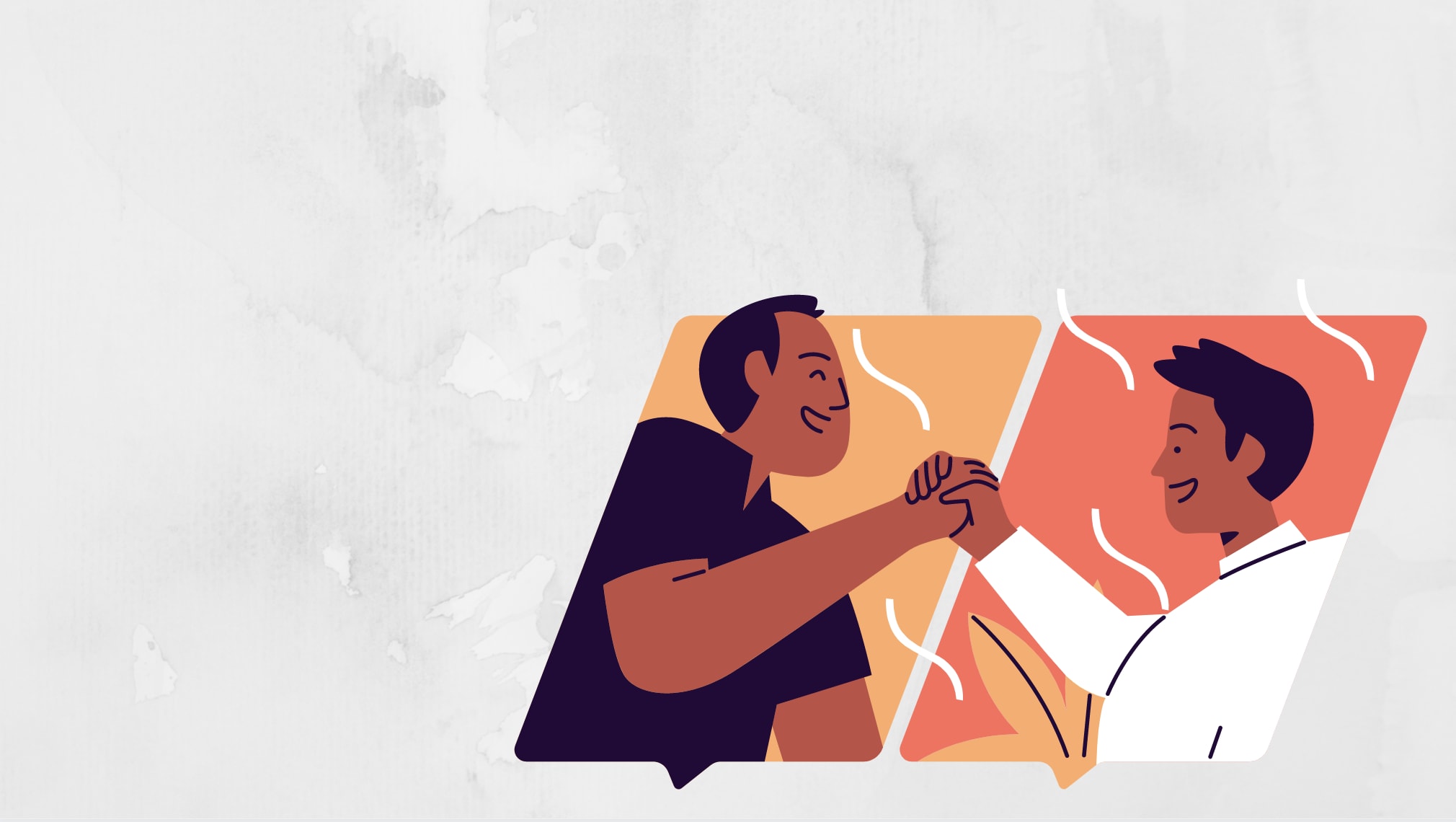 "Thanks for reaching out to us. Our team will give you a call shortly."
"Your call is important to us, please hold the line while we connect you to our representative."
Sound familiar?
Customer service used to be a nightmare.
But those days are behind us. Today customers expect the moon and more.
24*7 customer service. Instant responses.
Good customer service is now a must-have for B2B companies.
Responding fast to a query from a potential customer leaves a better impression, and dramatically improves their probability to convert.
A Twilio study found that 9 out of 10 consumers globally want to message with businesses, and less than half of global businesses have the infrastructure in place to fulfil this customer demand.
Live chat is one of the best ways to nurture customers and drive sales.
1. Live chat has the highest satisfaction levels for any customer service channel
Live chat has a customer satisfaction rate of 73%, compared with 61% for email and 44% for phone.
Time is money. Of the customers who prefer live chat, 79% said they did so because they get their questions answered quickly and 46% said it was the most efficient mode of communication.
Live chat is less intrusive, and allows customers to multi-task while waiting for a response. They no longer have to stop what they're doing to pick up the phone or send an email whenever they have a question.
22% of customers prefer live chat because they do not like to speak on the phone.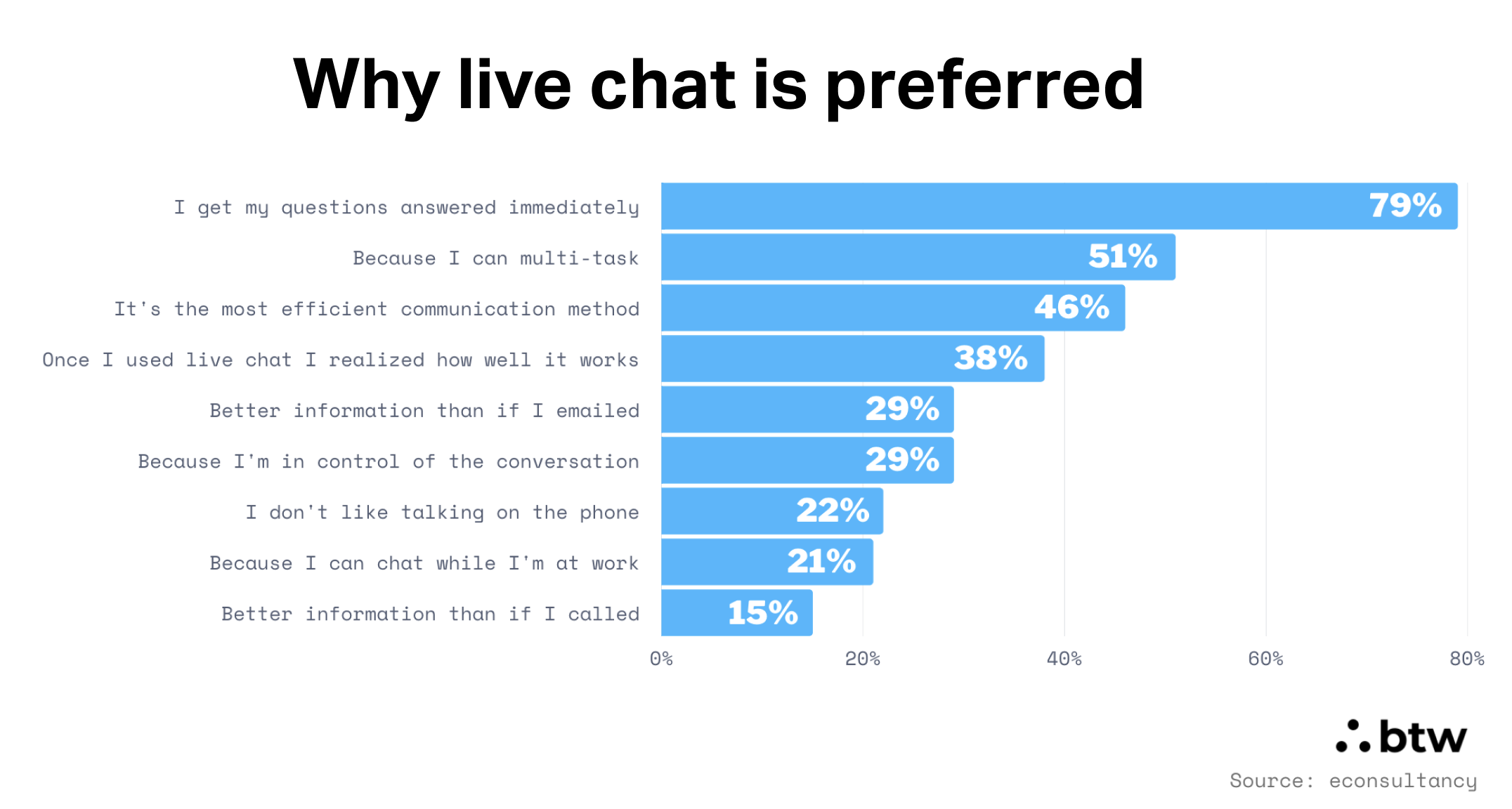 2. Chatters are more likely to convert
If a visitor engages with a live chat agent, they're 2.8 times more likely to purchase. Chatters also spend 60% more than non-chatters.
While browsing your website, visitors will have questions about your product. Using live chat enables you to answer them immediately, while the buyer is still on your website. The fast response also increase the visitor's trust in your website.
Live chat gives you the chance to hold your buyers' by the hand, help them overcome objections and reach a buying decision. It's like having a sales assistant on standby, live on your website.
3. Customers refuse to purchase if you don't have live chat support
77% of customers won't make a purchase if there's no live chat support.
It is obvious why customers would be skeptical of buying things from people and companies they don't know. Live chat gives you an opportunity to bridge that gap by having a direct conversation with your customers. This allows you to build trust and close the gap between online and offline purchases.
According to a study by ATG, 90% of customers said the "Live Chat" button gives them confidence that they can get help if they need it.
4. Bots can do the job while you sleep
24/7 live support is magic. But unless you're already an enterprise, you cannot afford to have customer support refs across the globe to be always on. Bots help you collect information about the customer's issue and their contact details for your reps to respond once they are back up.
Making your live chat hours clearly visible is a great way to let customers know when to expect an answer.
5. Live chat will help you understand your customers
Live chat isn't just about increasing conversions; it's about understanding your customers.
43% of companies said that they had a better understanding of their customers within 1 year of using live chat.
You can review chat transcripts to analyse words, phrases and questions that your target audience uses. This can help optimize your marketing copy to make it more convincing. You can also understand the most common questions your visitors have, and include them in your FAQs.
Given the global pandemic, most business is being conducted online, and customer expectations around customer support will continue to rise. Quick issue resolution and real-time conversation with your customers give you insights to better understand them, and build trust. If you're not using live chat on your website, you could be missing out.