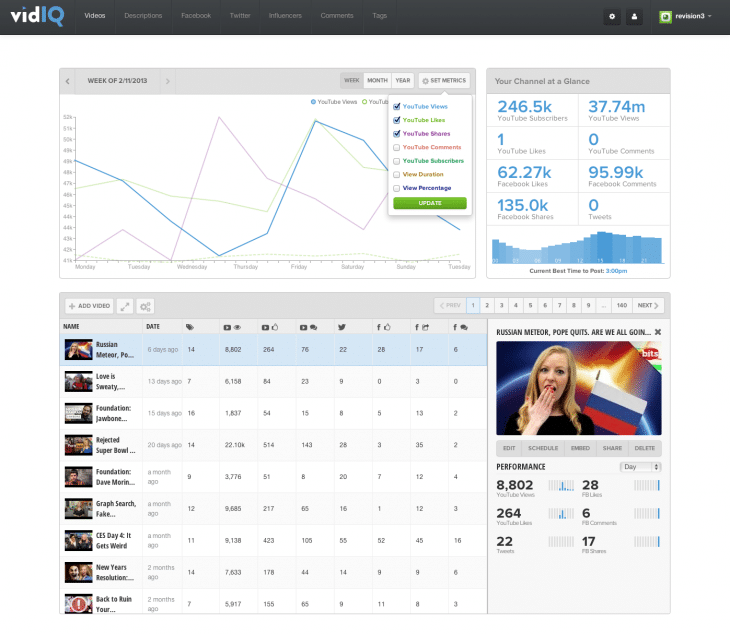 VidIQ is a video marketing platform that gives businesses the tools for optimizing marketing campaigns and engaging audience with YouTube videos.
Features
Scorecard
Daily Ideas
Keyword Tools
Competitors
Trends Alerts
Compare Views
Most Viewed
Productivity Tools
Thumbnail Generator
Channel Audit
Real-Time Stats Bar
Achievements
Pricing
Pricing varies depending on number of users: VidIQ Pricing
G2 Score
4.5/5 (out of 18 reviews)
Reviews (Snippets from G2)
Pros
The "Daily Ideas" feature is the best part of VidIQ. Since I started using this feature, my overall channel views started numbering in thousands per day instead of less than 100 per day previously.
I love how quickly VidIQ provides the data and they are almost realtime too.
Every feature of Vidiq is very good specially the keyword finding and relevancy check feature.
I like the data and checklists that allow me to tailor my information to the best search rating.
VIDIq makes it so easy to understand the analytics that will actually help you drive traffic that leads to sales not just to the looky loos.
It is the best tool for youtube creator for analysis of the keyword and also to find the topic to make videos which are trending in the market.
Cons
The dislike that I found in the software is that it is only available for chrome not for another browser it has only chrome extension.
How for the smaller youtuber very good tools aren't just limited but totally blocked off behind a paywall.
Vidiq's widget in extension takes too much space in youtube, it can be optimized.
I dislike that it can only be used for one channel. Wish they would have a plan for multichannel and multi-account analysis too.
I wish there were more features to help me optimize my videos.
Their paid plans are pricey. I really want to be able to access a few of their "paid" features on the free plan, but not able to.