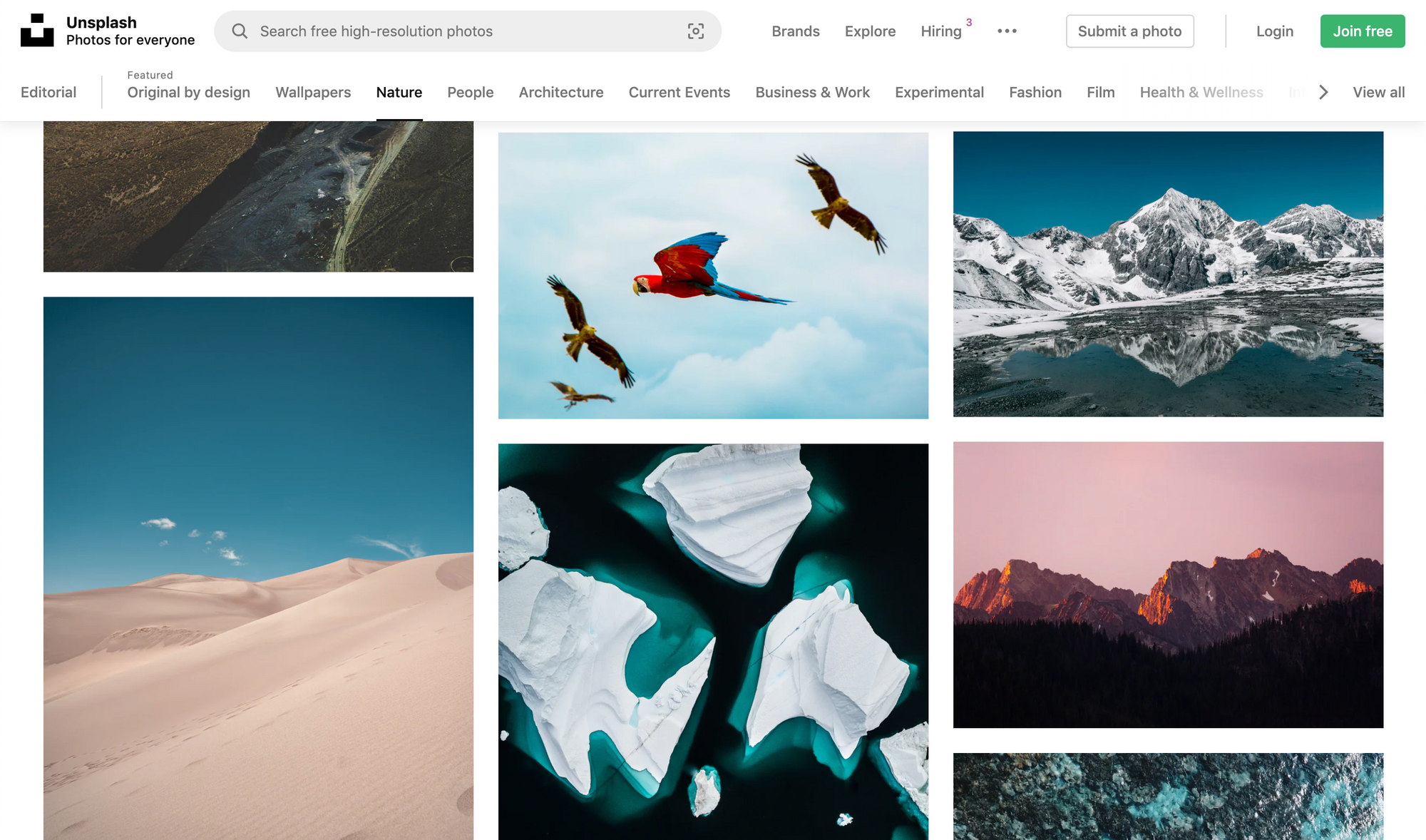 Unsplash is a website dedicated to sharing stock photography under the Unsplash license. The website claims over 265,000 contributing photographers and generates more than 16 billion photo impressions per month on their growing library of over 3.2 million photos.
Features
Over one million curated photos
Multiple collections
Submit photos
Share and download
Select image size and dimension
Pricing
Unsplash has not provided pricing information for this product or service.
G2 Score
4.7/5 (out of 53 reviews)
Reviews (Snippets from G2)
Pros
Unsplash has an enormous collection of images from different categories, from technology to business to spirituality etc.
Unsplash provides a wide variety of photographs that are free to use. The pictures cover a wide range of needs and designs.
The upsides of using Unsplash include the multiple device connectivity, download speeds, and search engine that allows users to search by photo, collection, and user.
Unsplash has high-quality, high-resolution images that are free to use.
Unsplash has one of the most beautiful libraries of royalty-free, high-quality images for commercial use.
Unsplash makes it very easy to find a diverse range of photos. The images are high quality and are often more creative than standard stock photos.
Cons
Often the selection is a little more limited than paid sites, even if I like the style better.
Even though Unsplash has hundreds of thousands of beautiful images, most of them are relatively generic and are not usable in some specific business content.
Some of the keywords are lacking and also some of the images are hidden(collections).
Unsplash seems to want to focus on blogging content but they don't have so many frequent posts!
A recent change brings up the pay for picture use, and you need to scroll down to access the free photograph section of the webpage.
Sometimes it can become difficult to find busines professional images, many of them are abstract.