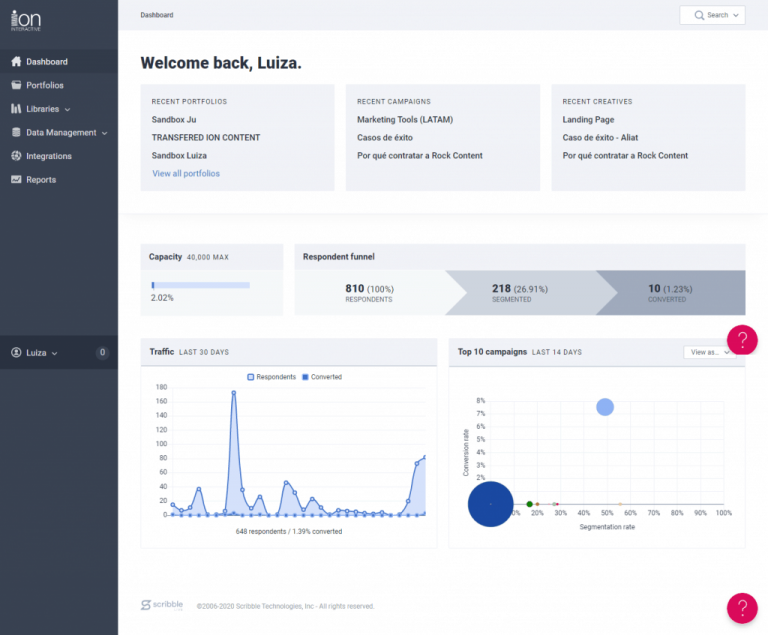 Ion is a complete content marketing solution for digital marketers. It optimizes your content making it more interactive and customer friendly enabling you to get higher leads and better conversion rates on your websites.
Features
Quick Start Cloud Templates
Studio Simulator
Targeting through Data Driven Content
Data Driven Personalization
Interactive Activity Analytics
A/B testing
Blank Slate option for creative designers
Success Checkpoints
Account management
Custom integrations
Static Infographics
24/7 Support
Pricing
Pricing varies depending on number of users: Ion Pricing
G2 Score
4.4/5 (out of 5019 reviews)
Reviews (Snippets from G2)
Pros
Ion is an important part of our web marketing arsenal that keeps us agile and ready to respond to any quick web need that the team has.
Great layout, awesome templates. File uploads are straightforward and organized within the Library.
It's a very robust solution that allows you to create beautifully designed web pages.
Easy to integrate with Wordpress and Marketing Automation platforms like Pardot, MKTO, etc.
I appreciate how intuitive it is and easy to use. I can quickly and easily go in and make edits without any hassle.
Ion is a great tool for landing pages and advanced web experiences for marketing.
Cons
I wish there were more advancements with the platform that allowed us to create more cutting-edge experiences.
Sometimes the tools aren't as intuitive as I'd like.
It can be a bit clunky and difficult to use if you're trying to build components/pages from scratch.
Sometimes the platform can be a little glitchy.
The learning curve is steep and the training isn't helpful for a lot of topics.
Lack of simple debugging API calls when using scriptlets. You need to run and look at reports for data which is very old school.