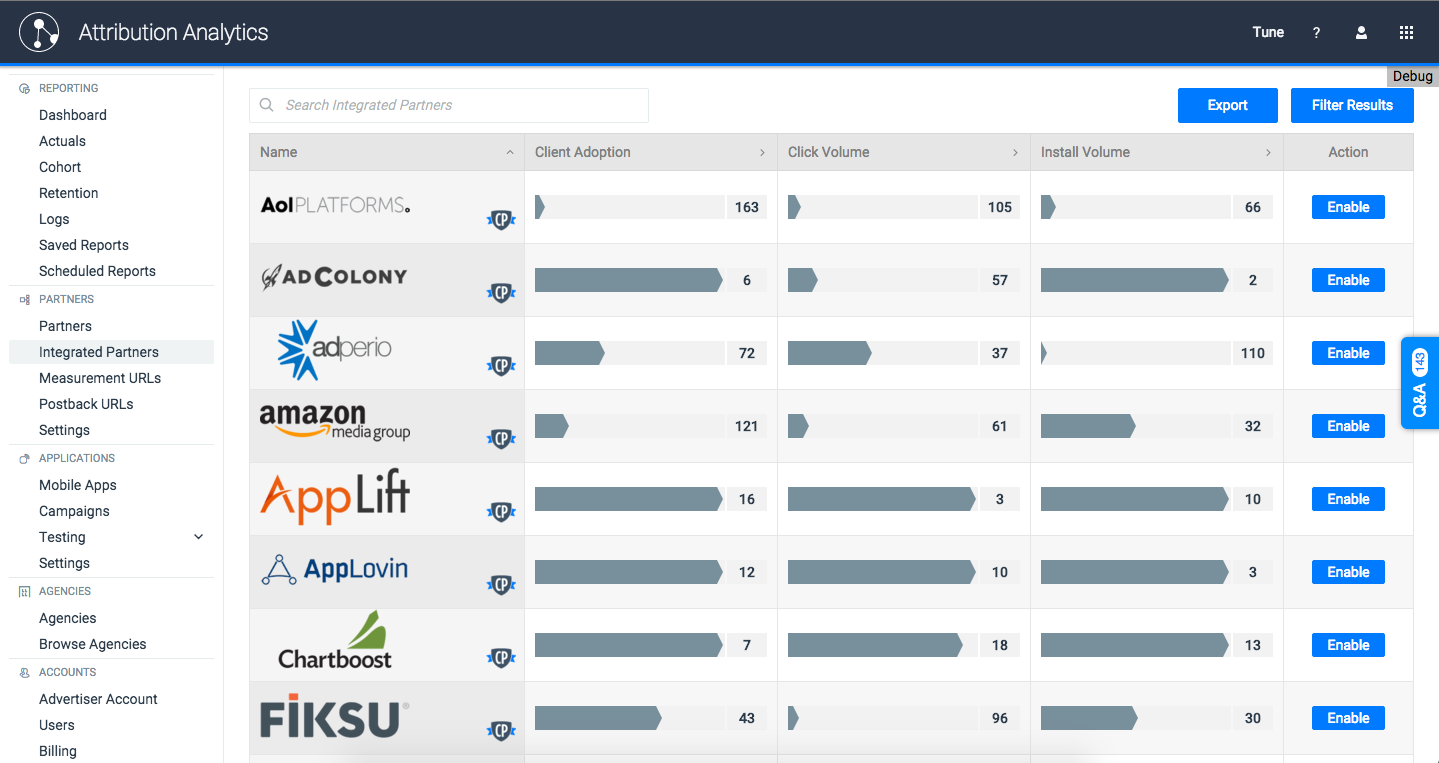 TUNE is a partner marketing platform developed to build, manage, and grow partner programs and networks. This fully customizable and flexible SaaS platform powers marketing relationships across the mobile and web.
Features
Campaign optimization
Lead generation
Full customization
Fraud detection
Offer exchange
Ad networks
Email management
Real-time reports
Customer support
Links tracking
Employee management
Affiliate & advertiser management
API & developer tools
Pricing
Pricing varies depending on number of users: TUNE Pricing
G2 Score
4.2/5 (out of 113 reviews)
Reviews (Snippets from G2)
Pros
It is a self-service platform, which has good explanations of each functionality. It serves for all phases of affiliate marketing.
I like that it is easy to manage our partners especially when they have payouts that are owed to them.
It's easy to use and the Team at Tune is super responsive anytime a quesiton pops up.
I can control All my offers/brands together.
Account Manager for EMEA team is super supportive and quick with any support in need.
I like the UI & the UX of the program.
Cons
I don't like the fact that Postbacks to affiliates are only fired on approved conversions yet we as a network.
Some functions are a little limited at the time of handling it because they make it a little difficult to use and manage.
I would improve the internal reporting capabilities as well as better seamless integrations with more BI platforms.
Sometimes the speed to load some pages can take a wild even if it's way better than in the past at the moment.
The user is separate from the partner account, so sometimes when the partner signs up it get rejected as they didn't set their user correctly.
No auto-payments is a big disadvantage - if we have more clients, it takes a lot of manpower to do manual work every month to generate payments.