How Ahrefs hit 100M ARR with a team of 69 and 0 salespeople
A deep dive into how Ahrefs used product-led content to grow to 100M ARR without a single salesperson on their team.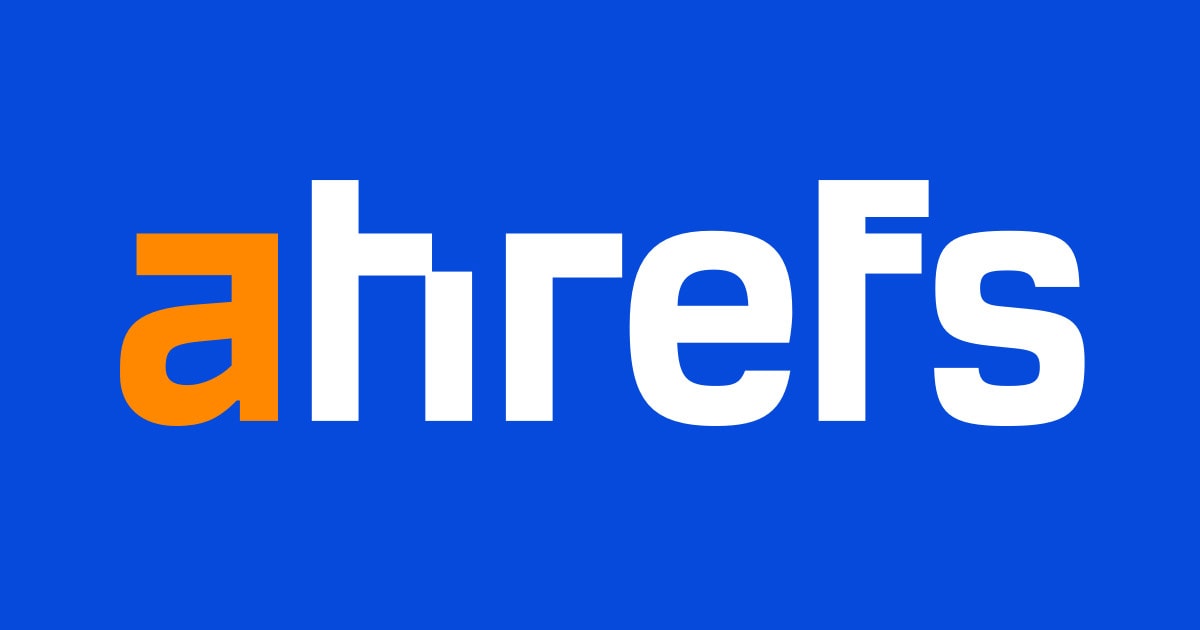 Ahrefs is a popular SEO tool that marketing teams use to rank higher on Google. They have tools for link building, keyword research, competitor analysis, rank tracking and site audits.
The CEO, Dmitry, built his first document search engine at the age of 15. His interest in search engines never diminished, and he created the first Ahrefs product (backlinks index) in 2010.
Singapore based Ahrefs has since built the entire suite of SEO products a marketer would need to rank on Google. Within 11 years of starting Ahrefs, they've managed to almost hit 100M ARR. While this isn't unheard of, it is quite a feat considering their team is only 69 people, and they have no salespeople on board.
I've been an Ahrefs user and a long time fan of how they run the company. In this post, I try to break down some of their industry defying strategies.
Product-Led Marketing
At Ahrefs, marketing is centred around the product. Tim Soulo, the CMO of Ahrefs, attributes their marketing success to 3 core principles:
Product education
The marketing team is focused on teaching their customers to be successful with the product.
Tim Soulo, the CMO of Ahrefs, believes that education should be one of the primary drivers of marketing.
The team bets on creating content (blog/ YouTube) & embedding the product into the content.
For example, their beginner's guide to Keyword Research explains how users can use Ahrefs to generate keyword ideas. This gives users a chance to see the product in action without even signing up.
Once users learn how it works, they are tempted to try the tool for themselves with the keywords they are interested in targeting.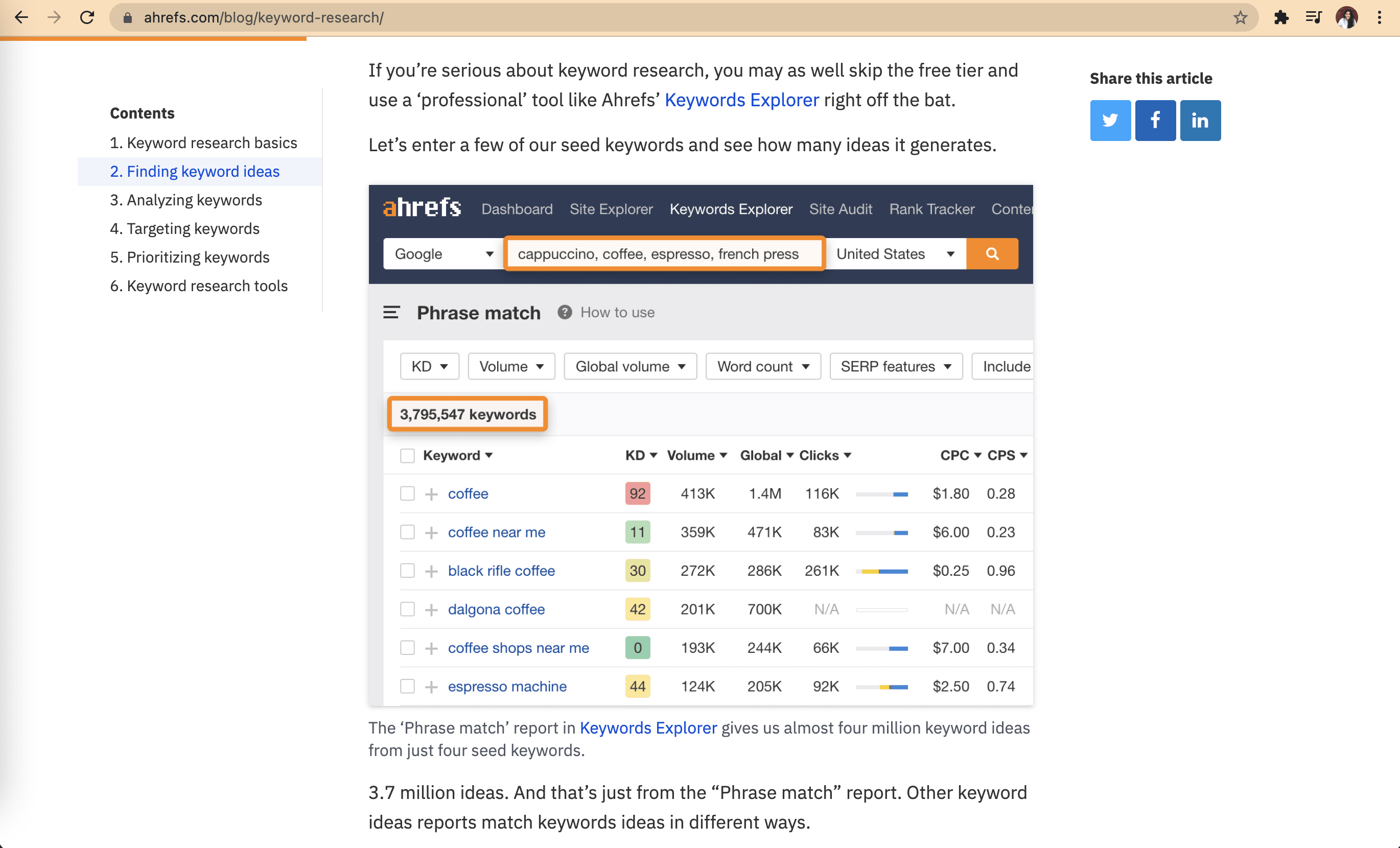 Along with customer acquisition, this strategy also helps retention. They repurpose the same content as in-app tutorials to educate existing customers.
The better their customers understand the tool and how to use it, and the more goals they are able to achieve with Ahrefs, the longer they stick.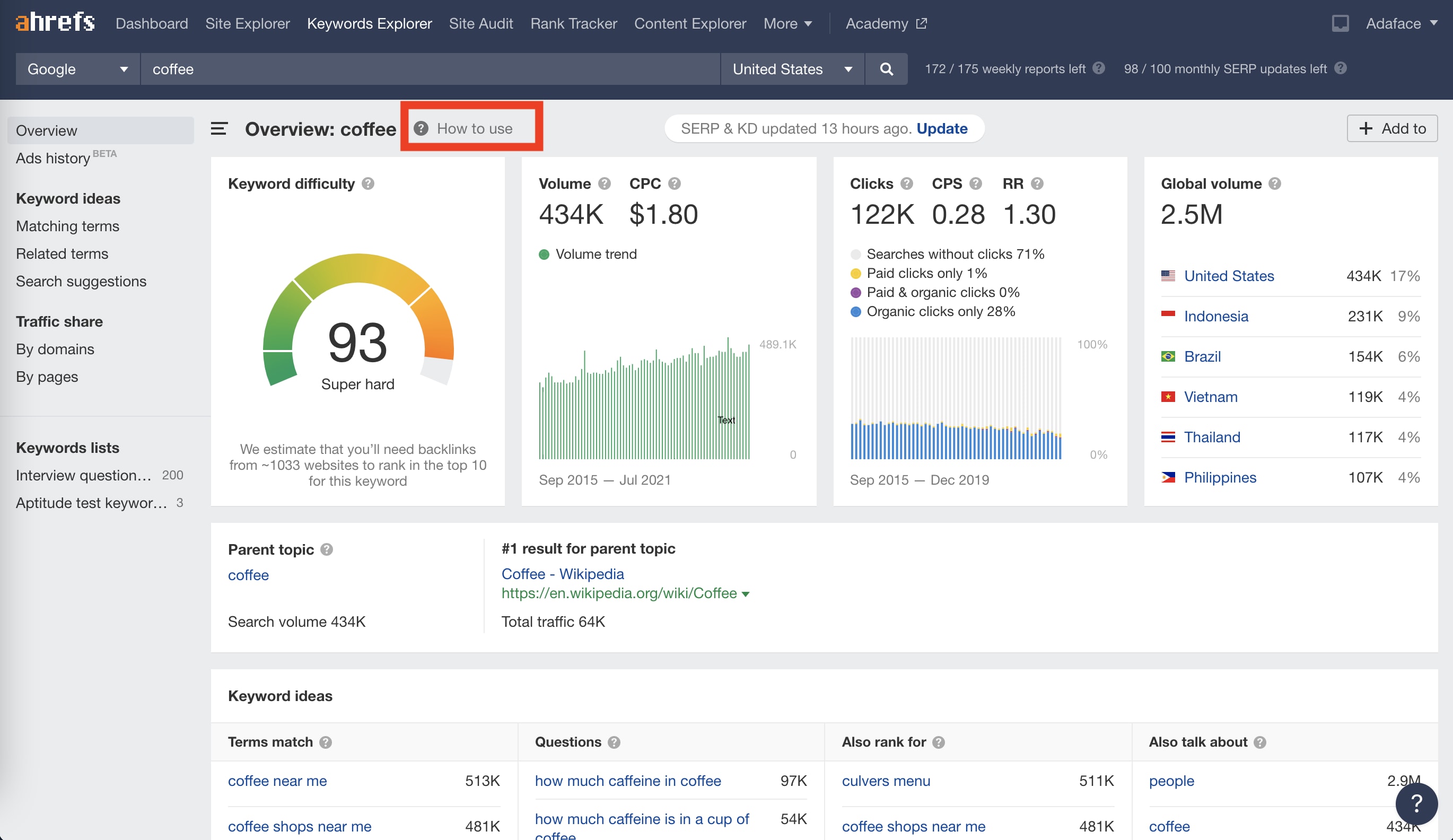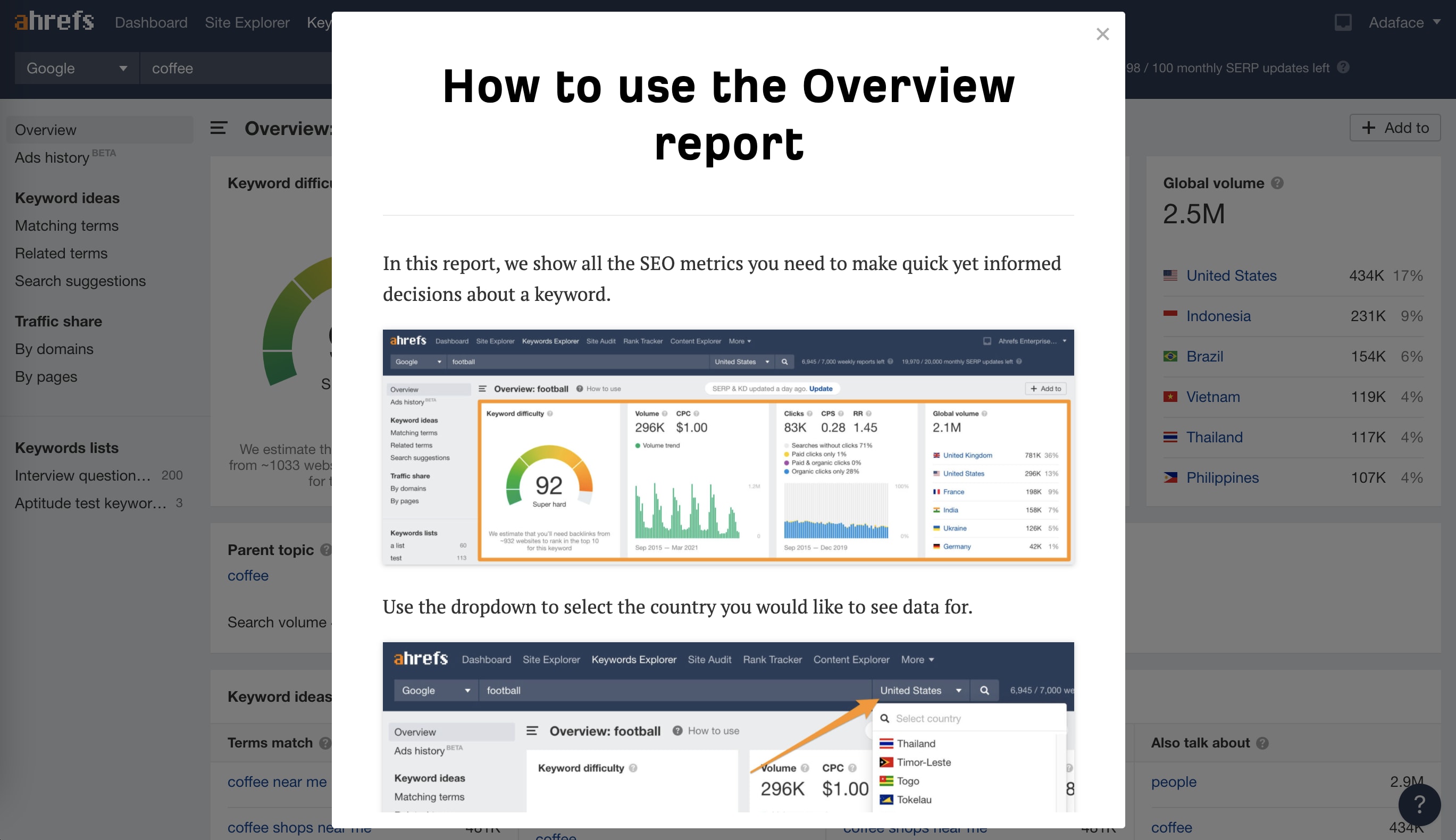 If the content is able to help a customer improve their business- they will go and tell their friends and educate them on how to use the tool.
If your product is complex (Ahrefs is pretty complex in my experience), and you fail to educate your customers, the product is bound to flop.
Writing a new article right now and I just recalled this amazing email that encapsulates our blog content strategy :) pic.twitter.com/BymolTovyT

— Tim Soulo (@timsoulo) January 14, 2019
SEO
SEO is all about being there when someone is looking for answers to their SEO questions. Being an SEO tool, Ahrefs must walk their talk. Their content is SEO optimized to ensure that when someone has an SEO question, Ahrefs is at the top of the search results.
The golden rule of growing your website traffic:

Make sure your content answers the questions of your potential customers, while your product or service solves their problems. 💪

We're a case study of this: six of the best ten pages on our blog are comprehensive how-to guides. pic.twitter.com/ETGWg3HFXT

— Ahrefs (@ahrefs) August 8, 2019
Product-market alignment
The marketing team works closely with the product and support teams- so the feedback loop is tight. The marketing team listens to customers, comes up with features that customers need, and the product team builds. Word of mouth is strong, and bloggers talk about and link to Ahrefs even when there isn't an affiliate program.
It helps that the CEO of Ahrefs, Dmitry is very customer-focused.
Ahrefs Marketing Team
Tim Soulo believes that marketing Ahrefs is easy, because the product is top-notch and sells for itself. His job as a marketer is to amplify what is already working.
It's hard to succeed in marketing if your product is awful. You should care about the product first; then, the marketing will almost take care of itself.
- Tim Soulo, Chief Marketing Officer at Ahrefs
High-quality content written by SEO pros
Every person who writes for the Ahrefs blog has an SEO background.
Since Ahrefs is a tool for SEOs, everyone on the Ahrefs marketing team is a pro user of the product.


The team is also proactive about joining Facebook and Slack SEO communities, answering questions, learning and staying up-to-date. Each person has deep knowledge of the industry (SEO). This makes it easy for them to derive content from experience instead of repeating what others are saying.
Marketing team composition
Ahrefs has a super lean marketing team of 10.
5 employees on the blog (content needs to be translated to 4 languages)
3 employees on YouTube (includes recording, scripting videos, editing, animations)
1 designer
1 employee for conference sponsorships/ swag
Why Ahrefs moved from a free trial to a paid trial
10 years ago, in a market dominated by Moz and Majestic, it made sense for Ahrefs to have a no-commitment, free trial to try out the product. Ahrefs was confident that their tech was superior- better tools and better data, so they allowed people to try the product without even signing up.
They index the entire internet. Their crawler is the second most prolific on the web, after Google. They just needed to give users a chance to try it out.
The frictionless free trial enabled paying users of other products to try it out.


The low barrier to entry enabled users to check out the quality of data and see the difference for themselves.
After establishing a name for themselves, Ahrefs moved to a 14-day free trial which required a credit card on sign up. Because customers could get value quickly (sign up & immediately get your search data), they heavily abused the free trial with disposable email addresses and fake credit cards. The number of free trial users was twice the number of paying users.
Ahrefs' CEO, Dmitry, decided to charge customers a small amount to make sure they were committed to using the product. They settled on a 7$/ 7 day trial.


Since a paid trial is unheard of in the SaaS space, they were afraid it would slow them down. Growth didn't decrease (or increase), but the burden on their infrastructure and support team went down considerably.
The Ahrefs Brand
Ahrefs takes their brand (and swag) seriously.
Who wants this pretty box with some Ahrefs' swag and goodies?

😜

Just tell us which Ahrefs' feature is your favourite. We'll select 10 people at random and send them these swag boxes. 🙃 pic.twitter.com/5DQ32B6Qly

— Ahrefs (@ahrefs) April 7, 2021
If you visit the website, you won't find any annoying popups asking for your emails, and you will receive no emails to push you to buy the product. Every email sent to a user is an additional step in the buyer journey.
Why focus on converting readers into leads when you can focus on converting readers directly into customers?


Their strategy is to educate users with their content and then wait until they are ready to buy.
They do not focus on experimenting with marketing tricks or growth hacks because they believe that while these could improve revenue in the short term, their customers will like the brand less for it.
For the same reason, they do not have Google Analytics or the Facebook pixel installed on their website. While they had initially removed these for GDPR reasons, they decided not to bring them back because some of their users would not be comfortable sharing their private data with Google.
This quote by Tim on the Ahrefs homepage, actively discouraging users from spending 7$ on the free trial unless they already know how to use Ahrefs, speaks volumes about how much they value their brand.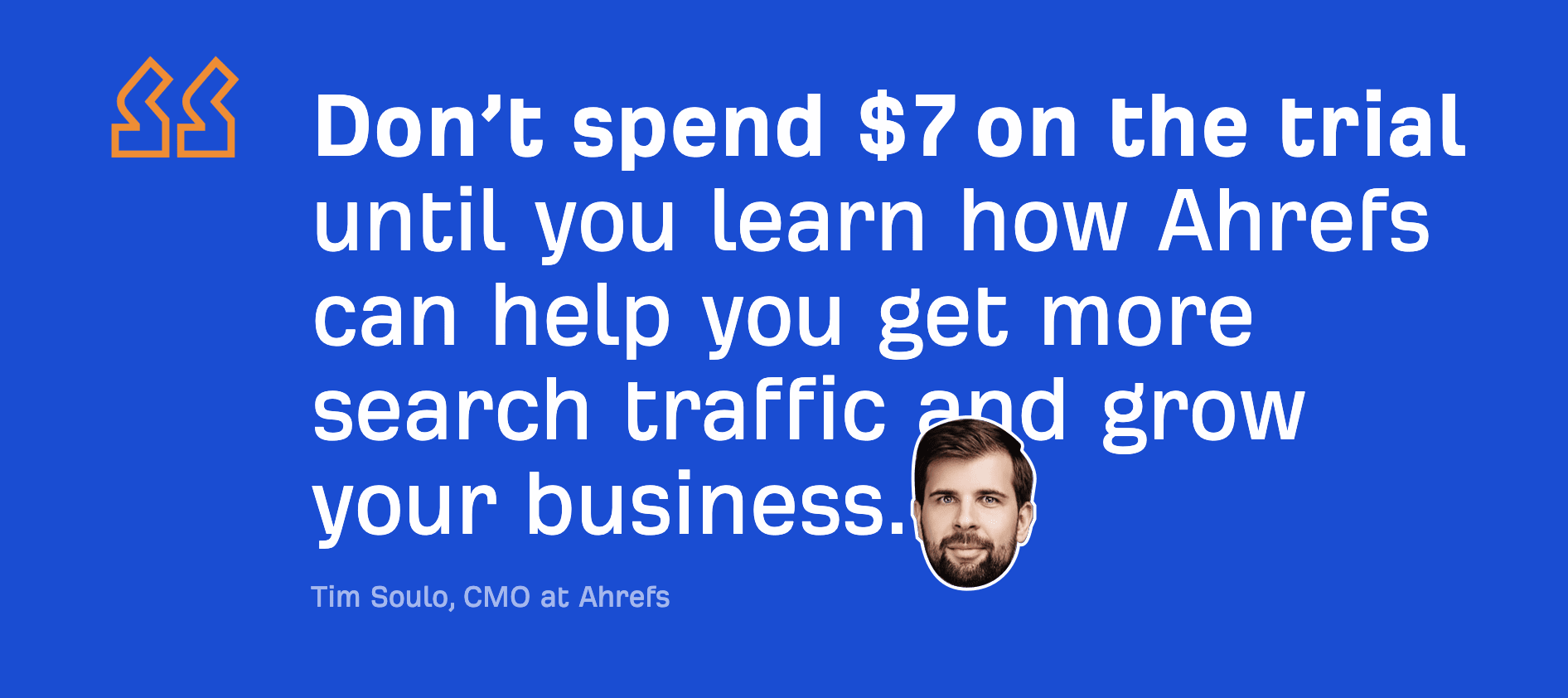 Not too fussy about metrics
The 2 metrics Ahrefs tracks are:
Number of paying customers
ARR
As long as these move in the right direction, they don't get too technical about metrics.
Sponsoring coffee cups at the most prominent SEO conference
In 2019, Ahrefs wanted to meet customers at BrightonSEO, the most famous SEO conference globally. They were dejected to find out that the most compelling sponsorship opportunities were already taken.
The conference organizers offered to add their logos to coffee cups, but Ahrefs likes to do things differently.


Instead of putting their logo on the cups or giving discount codes, they just wrote "coffee" in their branded font so their customers would know.
They also added SEO metrics for the keyword "coffee" in the nutritional facts table format to give people something to talk about. And talk they did, they were all over Twitter because several attendees tweeted a picture of their coffee cups.
I think we went a little too subtle with sponsoring coffee cups at #BrightonSEO pic.twitter.com/2hkpBMP6hf

— Tim Soulo (@timsoulo) September 13, 2019
Choosing to bootstrap instead of raising VC money
Dmitry believes that venture-backed companies have too much money to spend, making it natural for them to be less careful about what to spend on. The distractions can cause companies to make decisions that are sub-optimal for their customers.
Investors are rarely the actual users of the product, and raising money can cause teams to go in a direction that makes the investors happy.


True to their DNA, Ahrefs has chosen to not raise money from investors and instead double down on customers.
At 100M ARR, they're just getting started. Dmitry is pretty open about his future plans to compete with Google Search.
Ahrefs is working on general purpose search engine to compete with Google. Sounds crazy, right?
But lets talk about two huge problems with Google which they will never want to fix:

— Dmitry Gerasimenko (@botsbreeder) March 27, 2019
Wrapping up
In summary, here's how Ahrefs got to where they are:
Creating a good SEO software
Writing about how the software solves problems their customers have
Everything else is a distraction.