Growth Strategies to Scale Your B2B SaaS (6 Proven Ways with Case Studies)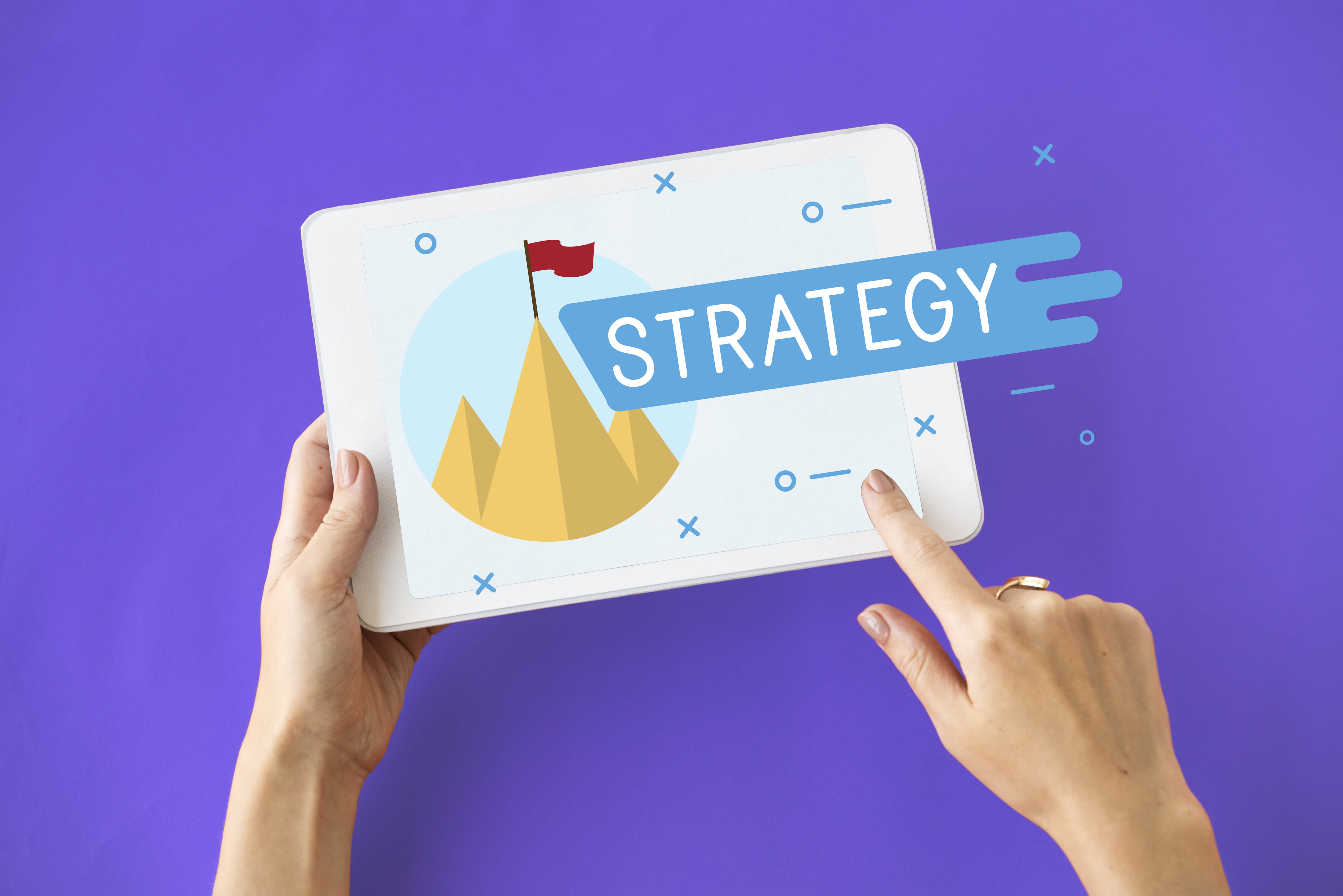 It wouldn't be an exaggeration to say that the SaaS market is crowded with multiple products for one problem.
There's a high chance that whenever you come up with a new SaaS product idea, you soon realize that there's already a similar product in the market.
The space is hyper-competitive, and every product that performs well has an effective customer acquisition strategy. You'll need something of that sort too.
Demonstrate your product's benefit or competitive advantage through better positioning
No one set path will assure you success in the SaaS space.
What the majority of the successful ones get right is positioning.
Positioning helps you create a distinctive image of your product in the target audience's minds. Answer "what your product can do for me?" from a customer's perspective and clearly state the pain point it solves.


It becomes essential to focus on this aspect because people develop perceptions. And positioning always crosses a customer's mind in relation to your competition.
They get hooked on your product and start using it. This results in a bigger market share and a high ARR amongst competitors.
How to get the positioning right?
Understand the pain point your product solves
Ask how your product will help businesses and why they should purchase it. How is it different from its competitors? What are the top benefits and features of it? Which pain point does it solve?
Have clear answers for who, what, and why about your product.
Develop a deep understanding of buyer persona
A buyer persona is the sum of motivation, behaviour, patterns, and demographics. It includes a detailed description of your target audience.
Keep track of your competitors
Know how your target audience views your product compared to your competitors'. Know what you're up against.
Then provide the necessary product information through sales and marketing efforts to help prospects make an informed decision.
Study the market well
Identify the most significant customer segments. This will help you establish and control how your product is seen in terms of differentiation (that one single element that makes you unique while still bearing relevance) and benefit (a reason to buy your product).
Growth strategies that worked for successful B2B SaaS companies
We'll discuss successful products and the growth strategies that helped them survive and thrive in this rapidly growing industry.
These strategies enabled them to onboard new users while retaining the existing ones.
Zendesk simplified their pricing page to increase conversion rate
The market has always been swamped with CRM tools. But here's the problem: the majority of vendors fail to sell the value of their product.
The reason is simple. Most CRM tools come with a steep learning curve. They are highly complex and unintuitive.
Zendesk approached the problem differently. They built a product with almost no learning curve. Their product lets a customer dictate the rules and makes them feel smarter and in control of things.


They were able to earn $1.3 billion in annual recurring revenue (ARR) from 150k paying customers.
While there are dozens of factors behind Zendesk's massive growth, let's discuss the recent changes in their growth strategy that boosted their business.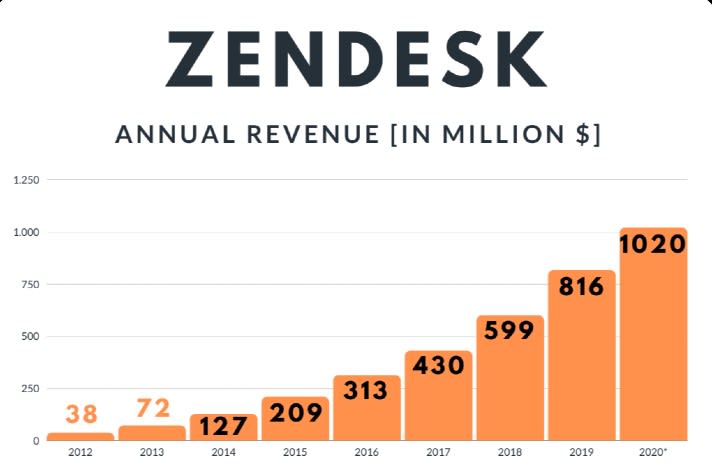 (Source: 21writers.com)
They simplified their pricing plans
A customer will feel lost if they're presented with a complicated pricing page, which leads to a poor conversion rate.
Zendesk's pricing page wasn't always simple. But they never stopped experimenting and finally came up with one that worked.
Notice their previous pricing page.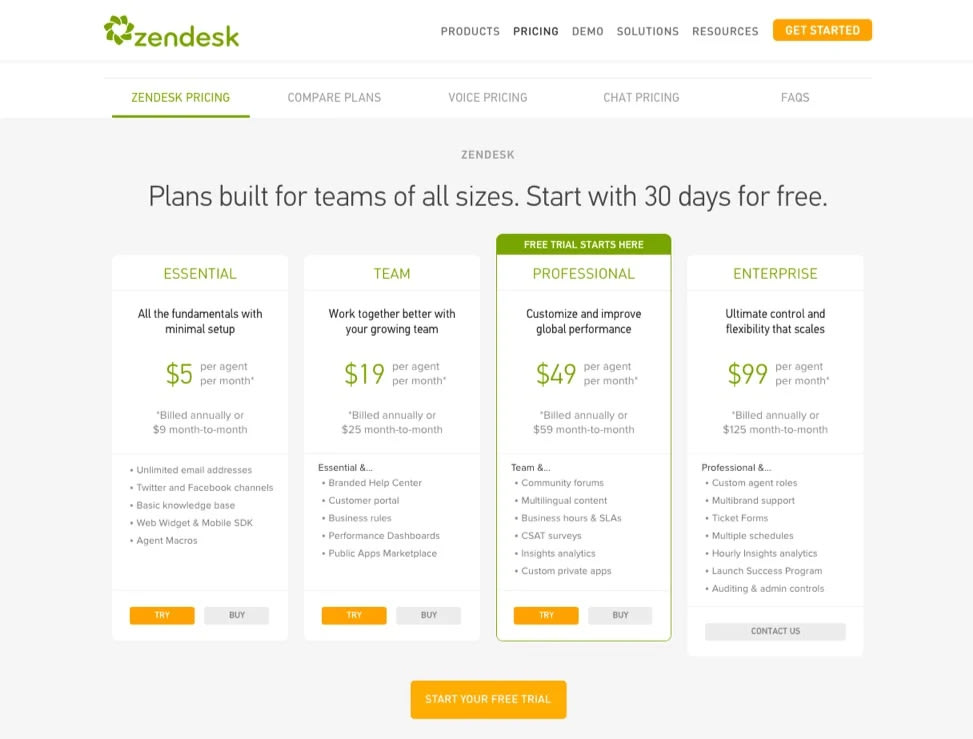 At first, it looks basic and standard.
However, if you get into comparing two plans, it's not easy. Only when you would click on compare plans and get into each feature would you know if a particular plan has that feature or not.
The information was poorly communicated and needed to be organized.
To solve the problem, Zendesk dug deep into understanding their customers' pain points related to their pricing page. They streamlined their pricing plans.
The screenshot below of their new page shows that they have three basic plans and one enterprise plan. The information is helpful and easily comparable.
This simplification helps a customer near the end of their buying journey compare and choose the option that suits them best.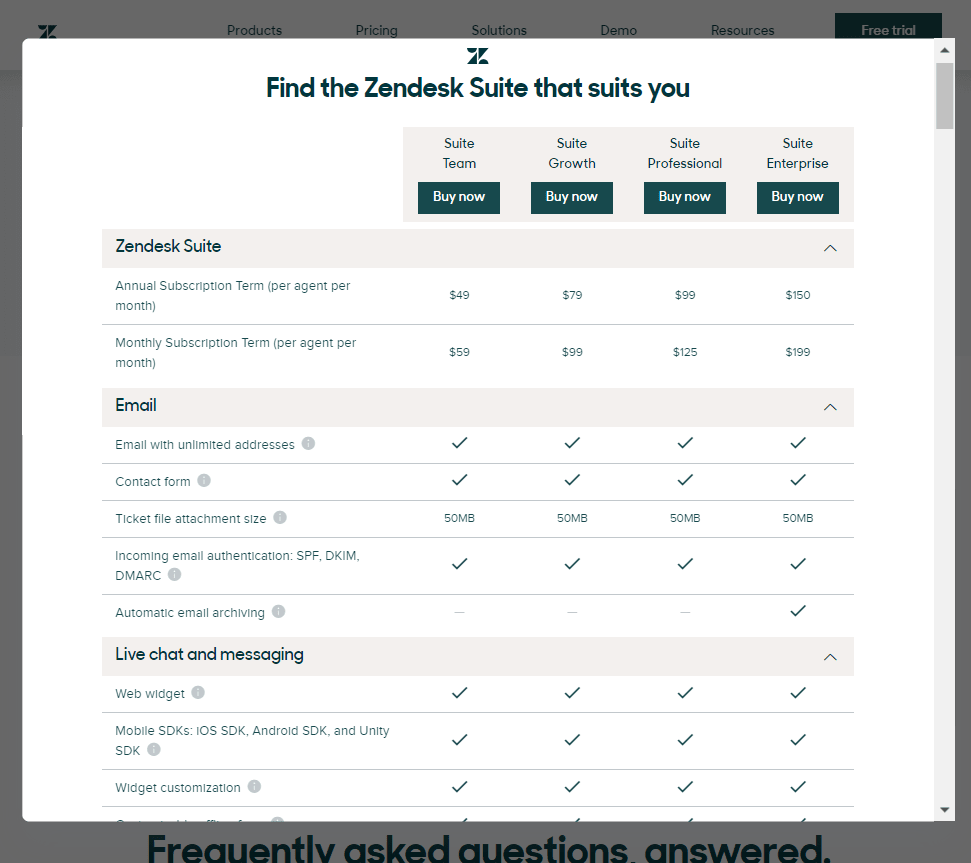 (Zendesk pricing page now)
They started using messaging tools to solve customer problems in real-time
Gone are the days of formal, episodic conversations that waste time in the process.
Zendesk realized the pain point and created their own messaging tool to let businesses have continuous, interactive conversations with their customers.
They enable companies to connect on the web, smartphones, and social media channels through a single platform with built-in automation.
Takeaways:
Make it easy for users by catering to their preferences and maintaining payment systems that won't get in the way of scaling business.
Design a simple pricing page with all the features tied to a minimum number of plans.
Use an AI assistant and chatbots to close the gaps in customer service.
Calendly grew to serve 10 million users with an inbuilt Virality Loop
Calendly, an automated scheduling tool, helps users save time and energy by getting to meetings on time. They have an ARR of more than $85 million and are worth more than $3 billion.
How do they do that?
They have an excellent virality loop built into the product.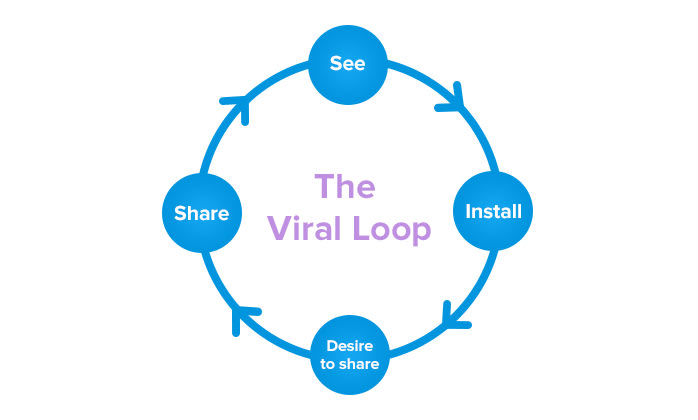 (Source: GrowSurf)
Let's see this in practice. Every time I send someone my Calendly link, I'm both using and promoting the product. Let's say I send a Calendly link to someone at my workplace who has never heard of Calendly.
They click on the link and are amazed by how easy and intuitive it is to use the product. They then start using it, sending people their Calendly link. And the loop keeps on growing.
A truly viral product has intrinsic virality, meaning that it's designed around something that naturally involves other people, things that create a two-sided benefit.
- Oji Udezue, VP of Product at Calendly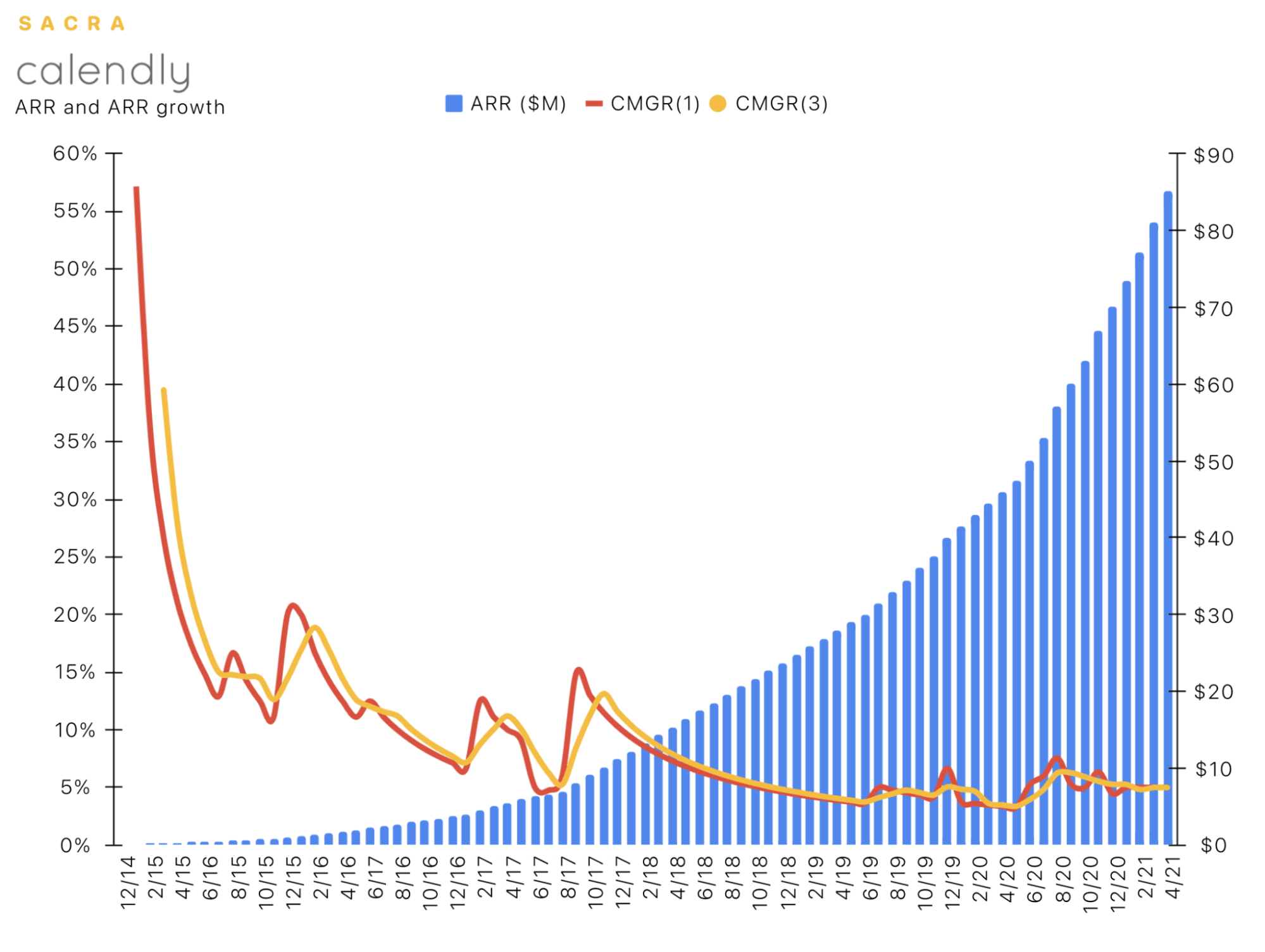 Takeaways:
Make onboarding frictionless for referrals.
If you are planning to deploy a virality loop, design a two-sided incentive where both parties benefit and further promote the product.
Dropbox gets the most out of their Freemium model
Nobody would want to sell a product built with their hard work for free.
But no matter how counterintuitive it may sound, if used smartly, giving away your product with limited features for free can get you revenue in the billions.
Yes, we're talking about the freemium business model.
Dropbox has mastered this model.
The company has 700 million registered users. They earned $1.9 billion in revenue in 2020.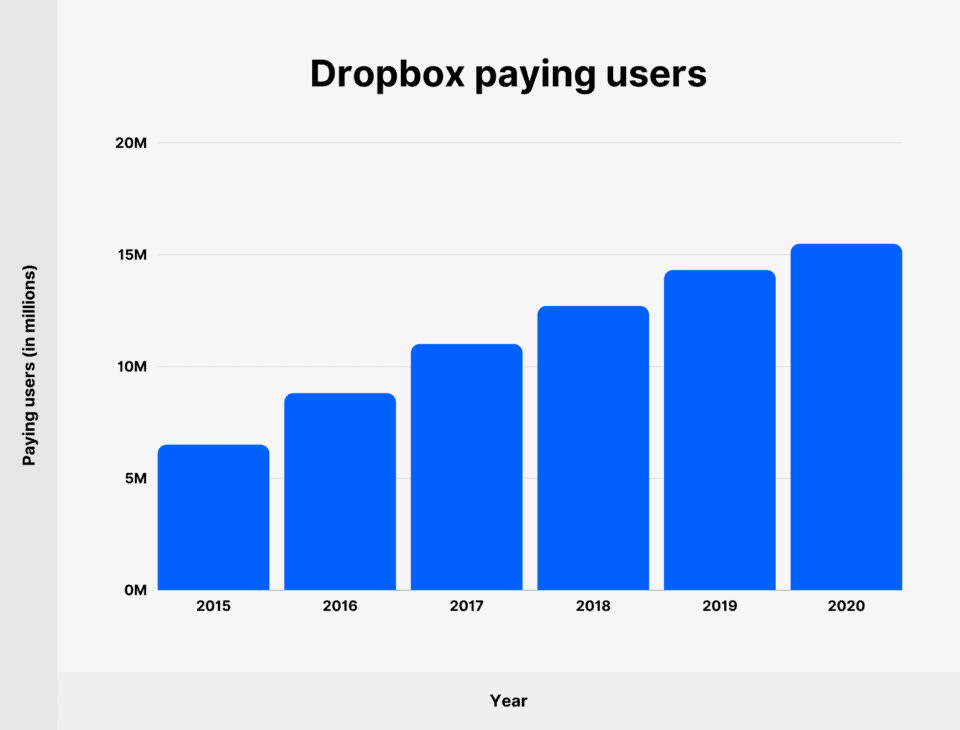 (Source: backlinko)
Dropbox shows people how easy it is to backup and store files in the cloud.
They offer free storage capacity in the cloud, which is generally adequate for text documents. And once a user exceeds that limit, they have the option to upgrade to paid plans.
The model also helps them with in-product actions to begin customer marketing workflows.
Once a user has engaged enough and has become a good fit to become a paid user, Dropbox starts pursuing them in that direction.


It also serves as an onboarding process. The freemium model helps users get familiar with the product, so once they become paid users, Dropbox doesn't have to invest heavily in onboarding.
Takeaways:
The freemium model is a proven acquisition strategy to get people to use your product. Even in the long term, if free users don't convert, they advocate for your brand and refer it to others who might upgrade to the paid version.
The model works if your product has a low entry barrier and provides instant value. Once you have gained enough traction, start pursuing users to upgrade to a paid plan.
Understand your business goals. If you need more paid users, then offer free trials. If you need more users, then a freemium model is the way to go.
HubSpot scales their business with Inbound Marketing
The ROI of content marketing is immense, and 70% of marketers are actively investing in it (HubSpot, 2020).
In B2B, speaking to customers' pain points through content marketing is highly effective. It creates space for you to fit your product into the problem and pitch it as the solution to those pain points.
HubSpot does this well. The company paved the way for most B2B SaaS marketers to switch to customer-centric content marketing.
Their success can be attributed to lots of strategies, but one that helped them grow exponentially is customer-centric inbound marketing.
In 2021, HubSpot is at $1 billion in ARR. 33% of customers come from word-of-mouth, 26% from SEO/Google, and 13% from their blog, i.e., content marketing.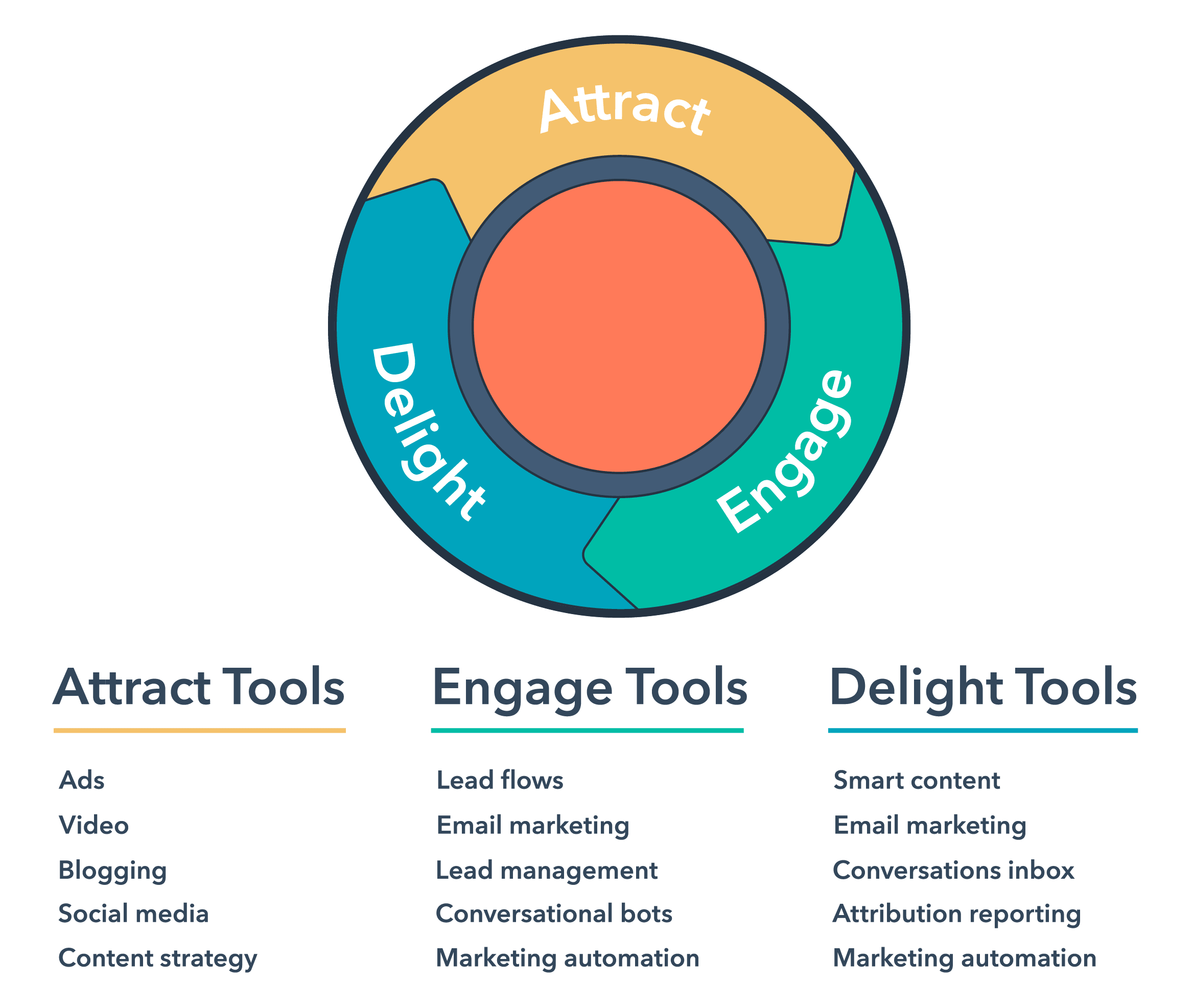 Inclusion of thought leadership + SEO in their growth strategy gets them more than 7 million in monthly organic search traffic. They have also been getting millions of backlinks and dominating SERPs.



The company churns out thought leadership content with a fresh take on modern concepts of marketing and sales. They share research-driven data, in-depth guides, insightful content on trending industry topics, and lead magnets like templates.
The more they help their audience, the more they stand out.
Takeaways:
Share the knowledge you possess with people in your niche. Do it by creating and sharing content freely.
Your content should have a purpose. Have a buyer persona (your ideal customer) and create content around it. Don't get lost in the noise. Attracting different personas can be tempting, but it would make your job difficult in the long run.
Keep your customers happy all the time, even after they've become paying customers. Keep resolving their queries through your content.
Xero acquires new users through their Partner Program
Almost everyone in the SaaS space admires Xero's exponential growth.
The product's inception has a familiar start. The founder wasn't pleased with the traditional accounting software, which was outdated and clunky.
Fast forward to 2021, the business has more than 2.74 million users and a market cap of more than $15 billion. Their growth isn't showing any signs of slowing down, with 450,000 subscribers added in the last 12 months.
Though there are undoubtedly multiple factors in its success, let's look at the two growth strategies they use to scale.
They don't focus on the end-user
Xero's ultimate end-users are small business owners who usually hire an accountant or a bookkeeper to manage their finances.
Instead of focusing on the end-user, they started pursuing their end-users' accountants and bookkeepers with the launch of their partner program.


It was a give and take relationship.
If the partners used Xero for accounting, the business would help the partners generate more clients and give them access to exclusive offers and rewards.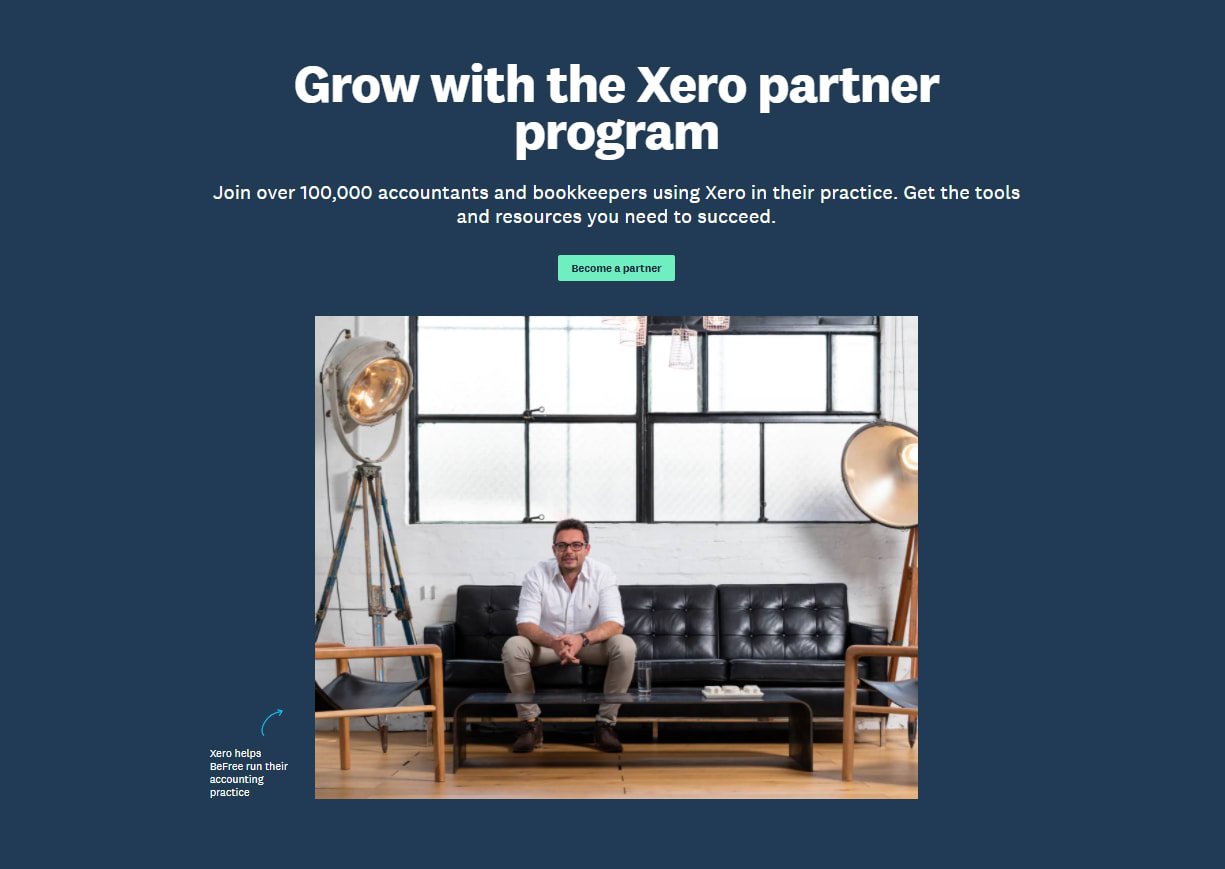 This strategy worked well for them.
Their investor briefing in 2016 emphasized the strength of this approach, stating that accounting partners accounted for more than 90% of their paid memberships in Australia and New Zealand (their most developed regions).
They have a solid backlink acquisition strategy in place
Xero has acquired thousands of backlinks from high-authority referring domains. It's a solid way to win more visitors through SEO.
They started acquiring backlinks from accounting websites in 2014 and grew the number by involving accountants and bookkeepers in the loop from 2016 onwards.
These were the same people who were part of their Partner Program. Getting backlinks from highly relevant people from the same industry strengthened their backlink network.


Xero additionally has a viable content marketing strategy, providing genuine content that appeals to their userbase at all points of the customer journey. They churn out high-quality content to attract, nurture, and retain users.
Takeaways:
Partner programs can ease your initial customer acquisition by selling products on your behalf to your end-user.
The growth strategy serves as a brand-building funnel as well. Your partners will be your customers and promoters, so investing in a partnership can be highly rewarding.
Not all backlinks carry weight; they must be relevant. Relevant links carry more value and make more sense to the Google PageRank algorithm.
Airtable's ease of use is what makes it so successful
Airtable ranks among the best cloud collaboration services in the world. Their founders' goal was to simplify developing tools that match their needs.
They let people work with relational databases with the simple UI of a spreadsheet.
They have a client base of 250,000 enterprises and are valued at $5.77 billion.
Airtable's strong SEO, marketing strategy, and user-created base templates contribute majorly towards its success. Still, there's something more basic that they've been doing right: building a simple product.
They know the power of simple and easy-to-use products
Airtable lets people work with relational databases with the simple UI of a spreadsheet. Their ability to cater to people without strong technical knowledge makes them unique.


They showed the world how spreadsheets could be used in never-before ways, and amazing apps could be made without writing a single line of code.
Takeaway:
Identify a problem that people are facing using an existing product and build a product that provides the same value but is super simple to use.
All in all, solve your users' problems
It won't matter if you have a really cool product unless you have a market for it. Measure your success in terms of how many paying customers you get.
Convincing people to pay for your product isn't easy. Find a pain point and solve it. Give them a product that provides them value from the moment they start using it.


With time, users start appreciating your product and develop an emotional connection with it.
They will want to see your product evolve with time. It's about building a community that sticks with you.
The best thing about SaaS marketing is that there are so many little things that you can do right for broader success. There's no limit to how far you can go with experimenting and trying something new.